TroopzTV, a popular Arsenal supporter, YouTuber, and member of AFTV, has been criticized after a video surfaced of him verbally attacking his spouse shortly after Arsenal conceded the opening goal in their match against Manchester City on April 26. The video was first posted on the social media account of Barstool Sports, a well-known American media company employing TroopzTV.
However, they have subsequently taken it down from their profile due to significant criticism. Calling out the hostile behavior of the YouTuber, one user noted:
"Vile behavior"
---
TroopzTV under fire for his behavior. Has YouTuber addressed allegations?
TroopzTV has been called out by netizens for what appears to be a concerning path to domestic abuse. While it is unclear if the couple has had similar altercations before, it is important to note that verbally abusive behavior is classified as a form of abuse.
The original clip of the YouTuber shouting at his spouse can be found in his watch-along stream of the recent game between Manchester City and Arsenal. Troopz's team had just conceded the first goal, and in the video, he can be seen blaming his wife for walking into the room at that exact moment.
Although Barstool Sports has removed the clip, several individuals have reposted it on their own profiles. Here is the particular video in question:
It is worth mentioning that AFTV has had a history of controversial members. One of their former members, Mr. DT, was imprisoned following a domestic abuse incident.
Mr. DT, in reality, took a jab at the video clip. Troopz, in a tweet that has since been removed, responded by pointing out that DT, who has been incarcerated for abusive conduct, should not comment on his current situation. Here is the tweet: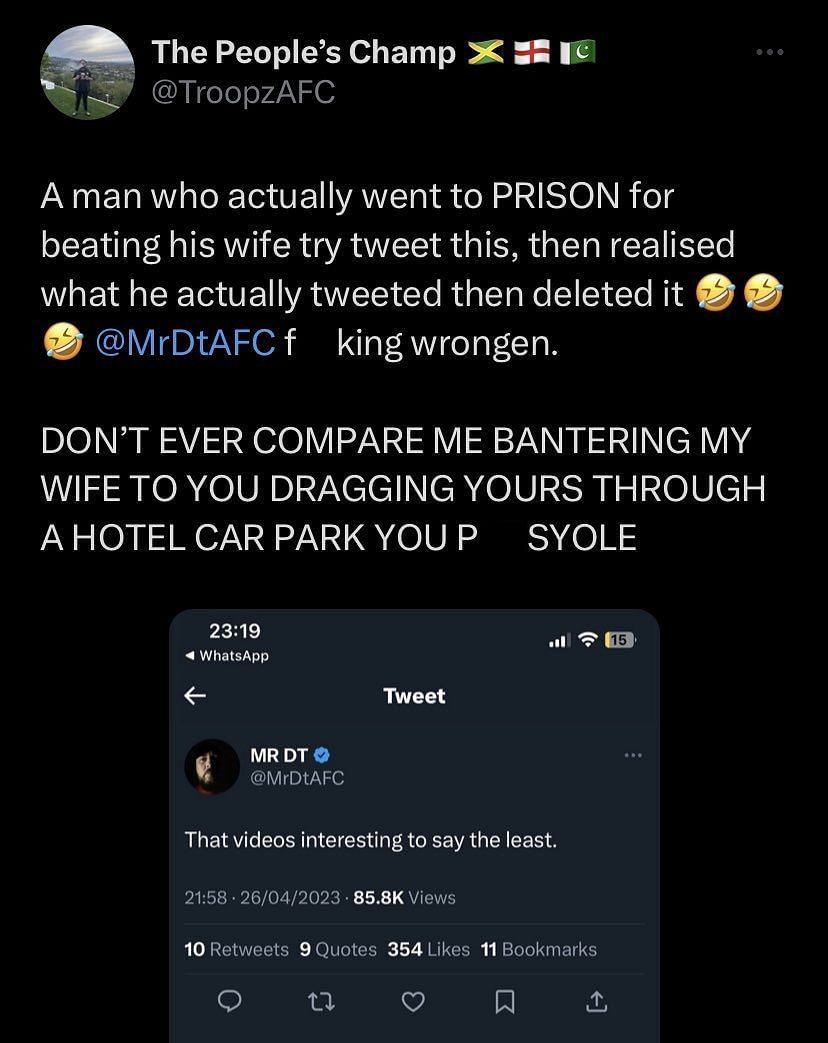 ---
Here's what the internet said
Although some have attempted to pass it off as a joke, many have criticized Troopz for his troubling treatment of his spouse. Here are some noteworthy reactions to the clip:
---
Despite TroopzTV's attempts to dismiss it as harmless teasing, the incident serves as a reminder that such behavior, even if it does not involve physical harm, can be perceived as threatening. It remains to be seen if the YouTuber will address the situation.
Edited by Dinesh Renthlei