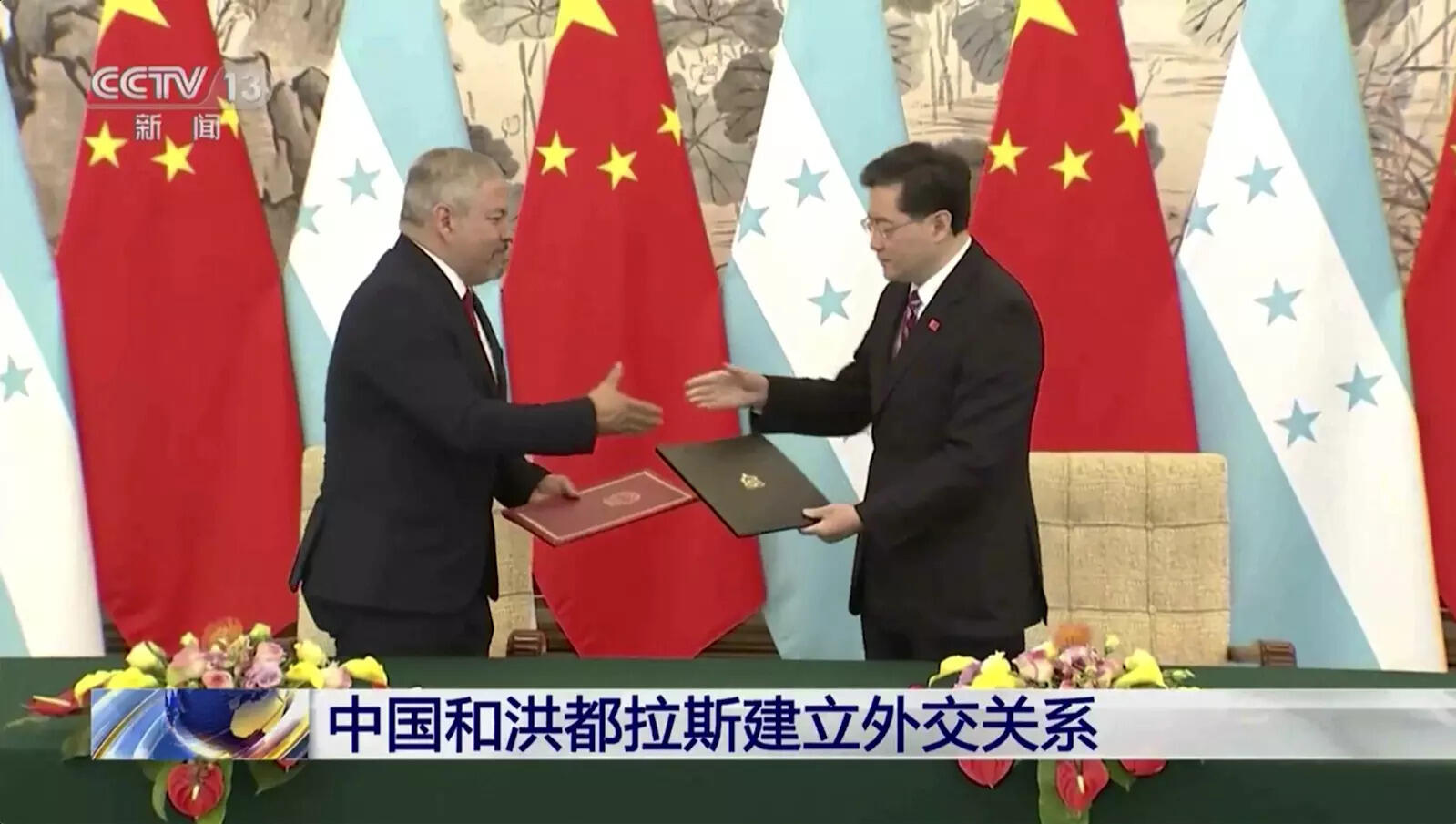 BEIJING: Honduras formed diplomatic ties with China on Sunday after breaking off relations with
Taiwan
, which is now recognised by only 13 sovereign states, including Vatican City. The announcement reported by Chinese state media CCTV came after the Honduran and Taiwanese governments made separate announcements that they were severing ties.
"The government of the Republic of Honduras recognizes the existence of only one China in the world and that the government of the People's Republic of China is the only legitimate government that represents all of China," Honduras's Foreign Ministry said in a statement posted on Twitter.
It added that "Taiwan is an inalienable part of Chinese territory, and as of today, the Honduran government has informed Taiwan of the severance of diplomatic relations, pledging not to have any official relationship or contact with Taiwan."
Taiwan Foreign Minister Joseph Wu said on Sunday that Taiwan had ended its relations with Honduras to "safeguard its sovereignty and dignity."
Wu said that Honduras President Xiomara Castro and her team always had a "fantasy" about China and had raised the issue of switching ties before the presidential election in Honduras in 2021. Relations between Taiwan and Honduras were once stable, he said, but China had not stopped luring Honduras.
The Honduran administration had asked Taiwan for billions of dollars of aid and compared its proposals with China's, Wu said, as he detailed work Taiwan had done to help develop its former ally.
"The Castro government dismissed our nation's longstanding assistance and relations and carried out talks to form diplomatic ties with China. Our government feels pained and regretful," he said.
Taiwan's presidential office spokesperson Olivia Lin noted in a statement that the relations between both sides had lasted for more than 80 years.
"China has suppressed Taiwan's international space for long and unilaterally endangers the region's peace and stability," she was quoted saying in the statement.
Honduras is the ninth diplomatic ally that Taipei has lost to Beijing since pro-independence President Tsai Ing-wen first took office in May 2016.
China and Taiwan have been locked in a battle for diplomatic recognition since the sides split amid civil war in 1949, with Beijing spending billions to win recognition for its "one China" policy.
China claims Taiwan is part of its territory, to be brought under its control by force if necessary, and refuses most contacts with countries that maintain formal ties with the island democracy. It threatens retaliation against countries merely for increasing contacts.
Taiwan still has ties with Belize, Paraguay and Guatemala in Latin America, and Vatican City. Most of its remaining partners are island nations in the Caribbean and South Pacific, along with Eswatini in southern Africa.
Tsai is set to begin a 10-day trip on Wednesday including visits to Guatemala and Belize. Her delegation will also stop in New York and Los Angeles, Lin said last week.
Taiwan's Vice Foreign Minister Alexander Yui earlier said the purpose of Tsai's trip was to highlight the island's friendship with the two Latin American countries.
Despite China's campaign of isolation, Taiwan retains robust informal ties with more than 100 other countries, most importantly the United States.
The US doesn't have diplomatic relations with Taiwan but has maintained that Taipei is an important partner in the Indo-Pacific.