Key events
Unite general secretary Sharon Graham suggests Tories don't want to resolve health strikes because they want to privatise NHS
In an article for the Guardian, Gordon Brown, the former Labour PM, says that the Conservatives are exploring introducing charging into the NHS, in a move that would formalise "two-tier healthcare". Referring to an article the Sajid Javid, the former health secretary, published in the Times on Saturday, Brown says:
Sajid Javid, a former chancellor and health secretary, has written approvingly of the £20 fee that some European countries charge for visits to the GP. He labels Ireland's €75 (£66) bill for attending an A&E without a GP's referral as merely "nominal", as if it's so modest that a higher charge would be more appropriate. And he calls for a national debate on the contribution private financing can make to healthcare.

But the direction in which the Conservatives are travelling is already clear. The sick would pay for being sick and charging would force, as has happened with GP and hospital fees in France, the better-off sections of the population to take out private insurance – inevitably creating, in its wake, a two-tier healthcare system.

Javid's intervention in favour of what he calls "nothing short of a 1948-style moment" is no accident. The prime minister, Rishi Sunak, who has used private healthcare, once came up with a proposal for new charges: £10 for patients who miss GP and hospital appointments. And so once again, as they did in opposition at the turn of this century, with Alternative Prescriptions, Conservatives are testing the water for a different kind of NHS.
Brown says charging would be inefficient and unfair, but he also says the NHS does need a new funding settlement. He says:
As a former chancellor, I have said for some time that the NHS refinancing that Labour achieved in 2002 – a 6.3% real terms annual rise between 2000 and 2010 – had to be revisited every decade. This hasn't happened under the Conservatives, and the consequences are visible to all of us. But the pressures the NHS faces make the case for comprehensive funding through national insurance even stronger; and show why this is to be preferred to either European-style social insurance, or private insurance.
Sharon Graham, the Unite general secretary, made a similar claim in an interview on the Today programme this morning. She criticised Rishi Sunak for not getting involved in talks to end the health strikes, and she said she was now "seriously thinking" that there was a "more sinister" reason for the Tories not wanting to see the dispute settled. She said:
I believe that [the Conservatives] have an agenda in terms of privatising the NHS. Sajid Javid's comments over the weekend weren't done whoopsie daisy, they were very deliberate. They were flagged to see how it flew. I am very, very concerned now that they have another agenda.
Asked what evidence there was that the Tories wanted to privatise the NHS, Graham said:
I was around when Jeremy Hunt was the health secretary, and he wanted the NHS in the American trade deal part. And what we're seeing now is such an act of self harm, I cannot understand why the prime minister does not come to the table … and gets this deal done.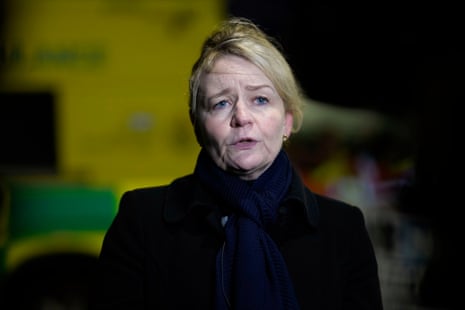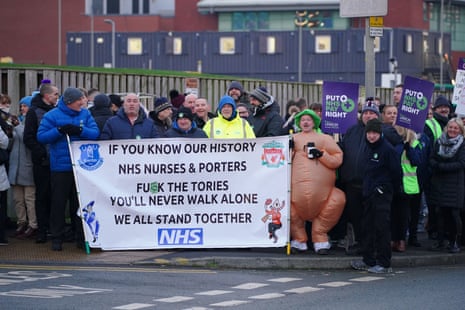 Paul Goodman, editor of the ConservativeHome website and a former Conservative MP, is not particularly optimistic about Nadhim Zahawi's survival chances in a good article on the topic published this morning. Here's an extract.
For when a minister comes under fire, the prime minister's support is essential. If it is heartfelt, the latter may find a way of saying a few words for a camera or the airwaves. The view of the minister's colleagues will also be important. If they queue up to defend him, they will either believe his account of events, like him, or have an interest in backing him – not least because they may be next.

You will have your own take, but James Cleverly, the luckless minister on media duty yesterday, didn't say that he had confidence in Zahawi as party chairman, but that his colleagues' futures are a matter for the prime minister. That wasn't exactly a vote of confidence. Meanwhile, Iain Duncan Smith, who was also in the TV studios, urged Zahawi to "get it all out now, whatever you have to do, and clear it up".

I haven't yet spoken to anyone in Downing Street with a less cautious view. It's a big place with many staff, not all of whom will have the same opinion – a point to bear in mind when you read articles quoting "Number Ten". Duncan Smith said that "I genuinely don't believe this is a man who is deceitful in any shape or form". But one senior figure I spoke to yesterday said that he wasn't convinced by Zahawi's account of events.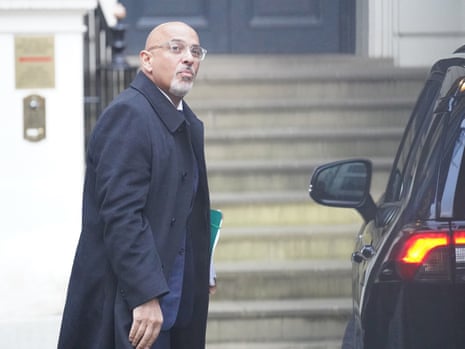 Nadhim Zahawi has arrived at the Conservative party's HQ in Westminster this morning, PA Media reports. The Tory chairman said "Morning!" to the press gathered outside. He then went inside the building.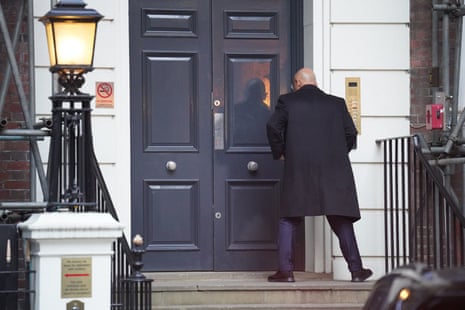 Nadhim Zahawi's job as Tory chair 'hanging by a thread', says former No 10 communications chief
Good morning. Since the end of the second world war, UK governments have generally been brought down by economic/financial crises (1970, 1974, 1979, 2010) or sleaze/ethics crises (1964, 1997). The current Conservative government is on course to fail on both.
Ambulance staff are on strike again over pay. And Nadhim Zahawi, the Conservative party chair, is under pressure to resign over revelations that he paid a penalty to settle a tax dispute while he was in cabinet.
Here is my colleague Peter Walker's overnight night story about the pressure he is facing.
Here is an explainer from my colleague Archie Bland.
This is from Archie's daily First Edition briefing. You can sign up to get it as an email here.
And here are the developments on this story this morning.
Zahawi reached his settlement with HM Revenue and Customs, and paid the penalty he owed, while he was chancellor, it has been confirmed.
Craig Oliver, head of communications at No 10 when David Cameron was prime minister, has described Zahawi as "in serious trouble" and "hanging by a thread". In an interview with the Today programme, Oliver said:
I think that [Zahawi] is in serious trouble. You cannot be Conservative party chairman and not go out and face the media. So at some stage he's going to have to go out and have a very, very difficult interview.

The problem, I think, at the moment is, it doesn't all add up. Why did you take the job of chancellor when you were clearly in dispute with the HMRC? He has yet to come out with an answer that is satisfying or feels comfortable on that point.

It's dealing with sums of money which are astronomical to the average voter and it feels deeply uncomfortable.

And I suspect that prime minister's questions this week is to be very awkward for Rishi Sunak but also the first time that Nadhim Zahawi has to face the media is going to be incredibly awkward too.

So I think that at the moment he's hanging on by a thread.
Here is the agenda for the day.
Morning: Rishi Sunak is expected to record a pooled TV interview while on a health visit.
11.30am: Downing Street holds a lobby briefing.
11.30am: Nicola Sturgeon, Scotland's first minister, holds a press conference.
3pm: Bertie Ahern, the former taoiseach (Irish PM), gives evidence to the Commons Northern Ireland affairs committee on the institutions created by the Good Friday agreement.
4pm: Dehenna Davison, the levelling up minister, gives evidence to the levelling up committee on levelling up funding.
4pm: Sarah Healey, permanent secretary, at the Department for Digital, Culture, Media and Sport, gives evidence to the Commons public accounts committee.
I'll try to monitor the comments below the line (BTL) but it is impossible to read them all. If you have a direct question, do include "Andrew" in it somewhere and I'm more likely to find it. I do try to answer questions, and if they are of general interest I will post the question and reply above the line (ATL), although I can't promise to do this for everyone.
If you want to attract my attention quickly, it is probably better to use Twitter. I'm on @AndrewSparrow.
Alternatively, you can email me at andrew.sparrow@theguardian.com