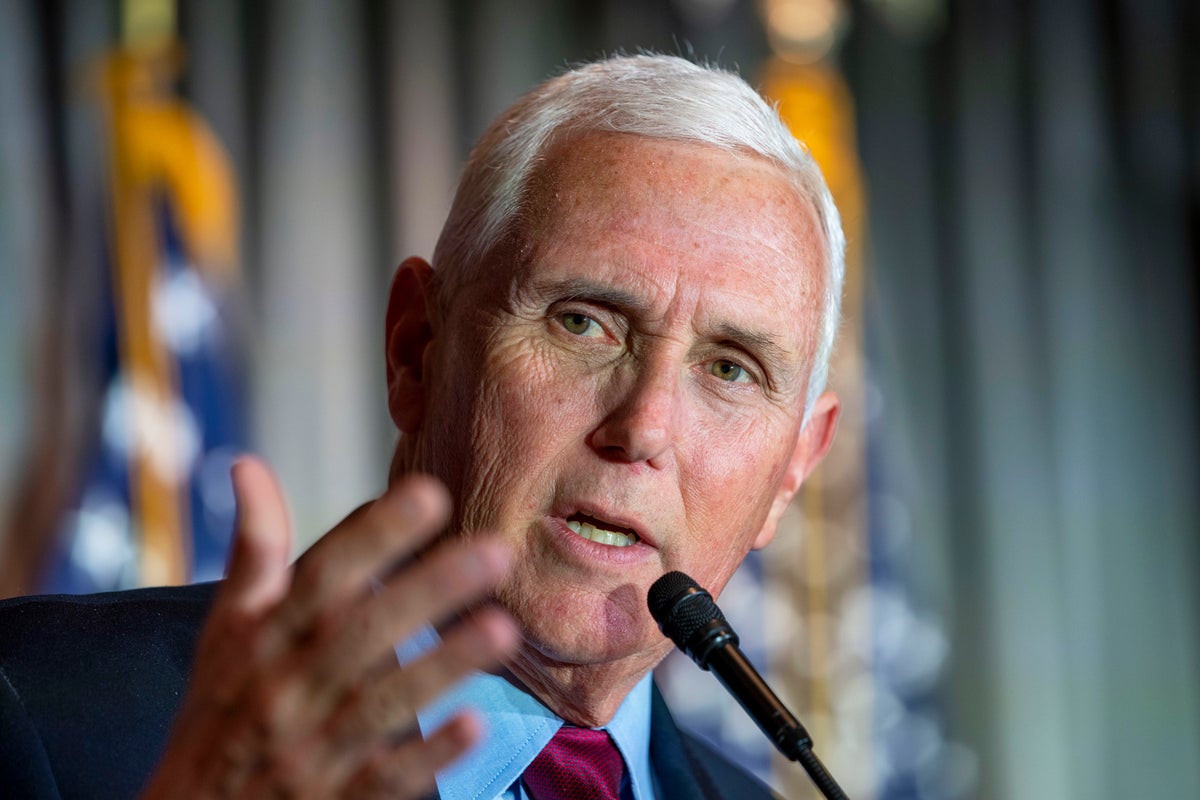 Mike Pence said he knows history will hold Donald Trump accountable over the Jan 6 insurrection and also made jokes at the expense of his former boss about the secret documents found at Mar-a-Lago.
The former vice president and Trump loyalist's comments are some of the harshest he has made about the one-time president.
Mr Pence, who once seemed reluctant to confront Mr Trump, made the remarks on Saturday evening during the white-tie annual Gridiron Club Dinner in Washington, DC.
"President Trump was wrong," he said at the event attended by politicians and journalists.
"I had no right to overturn the election. And his reckless words endangered my family and everyone at the Capitol that day, and I know history will hold Donald Trump accountable."
Speeches at the annual white-tie event are usually humorous affairs with politicians cracking light jokes at each other.
Mr Pence began his speech by mocking Mr Trump, president Joe Biden, vice president Kamala Harris and several Republicans who are expected to run for president in 2024.
He joked that Mr Trump's ego was so fragile, he wanted his vice president to sing "Wind Beneath My Wings", of which one of the lines is "did you ever know that you're my hero?", during their weekly lunches.
He also took a potshot at his former boss over the discovery of classified documents during raids at Mr Trump's Mar-a-Lago residence.
"I read that some of those classified documents they found at Mar-a-Lago were actually stuck in the president's Bible," Mr Pence said. "Which proves he had absolutely no idea they were there."
Mr Pence then said the "one thing" he didn't joke about was the insurrection and called it a "tragic day".
He berated Republicans and right-wing media outlets accused of trying to downplay the insurrection.
"Tourists don't injure 140 police officers by sightseeing," Mr Pence said. "Tourists don't break down doors to get to the Speaker of the House or voice threats against public officials."
"Make no mistake about it, what happened that day was a disgrace, and it mocks decency to portray it in any other way," Mr Pence said.
Mr Pence's comments come amid speculation that he might announce his own candidacy for the 2024 presidential elections and the criticism is to lay the groundwork for it.
In the days leading up to Jan 6, Mr Trump had reportedly pressured Mr Pence and wanted to use his position overseeing a joint session of Congress on 6 January to render election results null and void.
Mr Pence rejected his calls and when rioters stormed the Capitol, several chants of "hang Mike Pence" were heard.
The House select committee that led an extensive investigation into the attack said in its final report that "the President of the United States had riled up a mob that hunted his own Vice President."