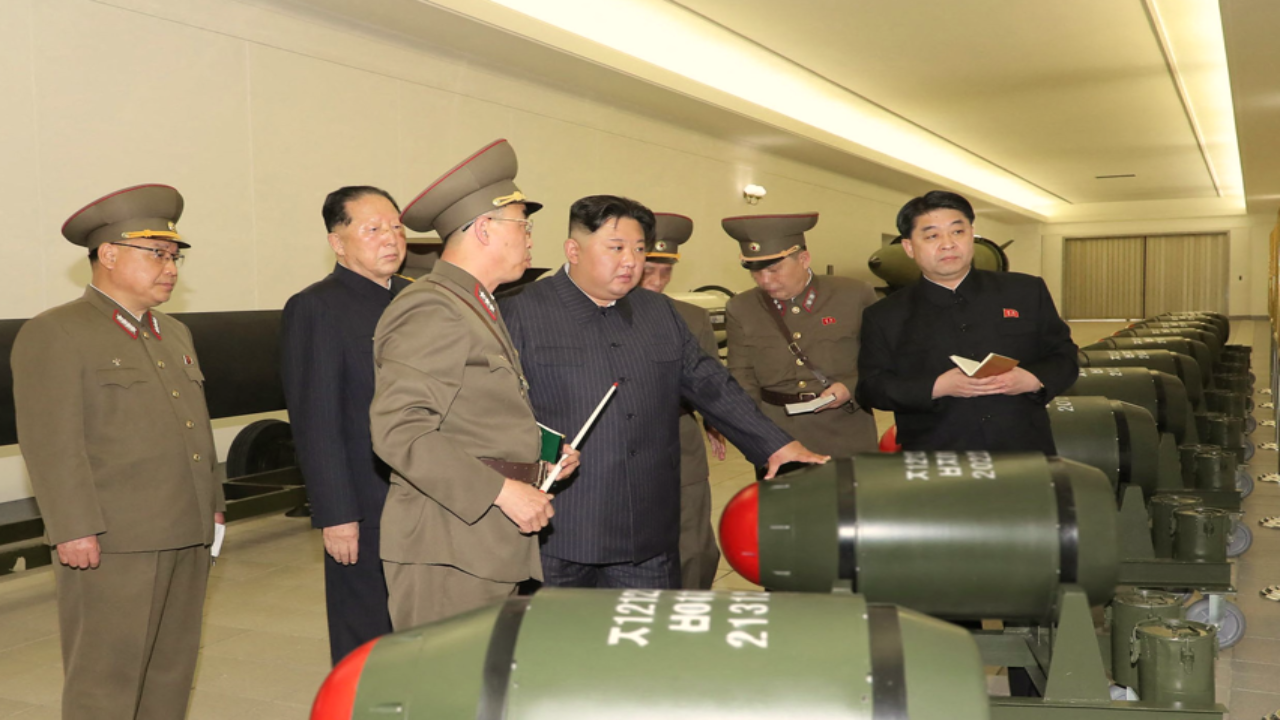 While the US has long demanded North Korea give up its nuclear weapons, the regime's biggest display of warheads let the world know that Kim Jong-un has no intention of abandoning his atomic arsenal.
North Korea's propaganda apparatus released photos for the first time in several years of Kim inspecting warheads designed for missiles to strike US allies in Asia and deliver a nuclear bomb to the American mainland. Weapons experts said the images published this week indicate
Pyongyang
has made progress in miniaturizing its warheads, which increases its ability to deliver a nuclear strike.
The warhead display comes as Kim's regime has shifted from one-time tests of a missile to evaluate performance to exercises that show it can deliver a coordinated nuclear strike on short notice. At this point, North Korea's nuclear capabilities may have reached a stage where the US may not be able to offer enough incentives to roll them back.
"Kim has conditioned the international community into accepting his country's nuclear weapons, to the point that these missile launches have become routine and part-and-parcel of dealing with North Korea," said Soo Kim, a former Korea analyst at the CIA who is now a policy practice area lead at US-based management consulting firm LMI.
"As odd as it sounds, it's reached a point where it's hard for us to fathom 'life without North Korean nuclear weapons' now," she added.
The Biden administration has repeatedly told Pyongyang the door is open to resume long-stalled nuclear talks. But Kim's regime has rebuffed the offers and stepped up its provocations to levels not seen since the "fire and fury" days of nuclear and missile tests in 2017 as it demands the US halt joint military drills with its allies in the region.
North Korea's ability to deliver a nuclear strike has grown to the point that there are calls by some policy experts to declare the country a nuclear weapons state. The change would lead to a revamp of a decades-old US policy aimed at preventing that from happening, while seeking the complete, verifiable and irreversible end of its atomic arsenal. There's no sign the Biden administration would make such a declaration.
In the meantime, North Korea has pressed forward. In March it started testing mock nuclear devices affixed to missiles that could reach all of South Korea and western parts of Japan. It has released photos of detonations several hundred meters above a target, saying the tests verified "the operational reliability of nuclear explosion control devices and detonators."
To be sure, while North Korea has demonstrated its missiles could fly as far as the US, there are questions as to whether the warheads would remain intact upon atmospheric re-entry and reach their targets.
North Korea is estimated to have about 80 to 90 warheads, the Seoul-based Korea Institute for Defense Analyses said in a paper released in January, adding that Kim Jong-un was looking to have between 100 to 300 over the long term. The arsenal is the smallest among states that have declared they have nuclear weapons, but Kim has been modernizing his missiles and delivery systems to ensure his bombs could reach their targets.
The recent warhead display showed size improvements — and possibly design advances —- over prior North Korean nuclear weapons, according to George William Herbert, an adjunct professor at the Middlebury Institute of International Studies. In addition, it appears North Korea is looking to repackage its weapons designs so that they can be mounted on its latest missiles, he said.
"Having one design that is adaptable to many different delivery platforms is a very efficient engineering step, and one they likely can continue in the future," Herbert said via email. North Korea also released a photo of Kim standing in front of a poster showing the various missiles for which the warheads could be used.
"The particular weapons in that room were probably all mockups, but their assertion that they're building many and will deploy them on the many types of delivery systems is credible," he said.
One area of worry could come from North Korea making advances to miniaturize its peanut-shaped thermonuclear device, which could be mounted in more types of weapons and increase the detonation power of a nuclear blast.
Another worry would be an imminent test of the new nuclear devices. North Korea has been the only country this century to conduct physical detonations of nuclear weapons. Other nuclear powers use computer simulations for testing the efficiency of their devices.
Satellite imagery has indicated for more than a year that North Korea is ready to hold a nuclear test at its mountainous Punggye-ri site, where it has conducted all six of its previous tests. But Kim has held off — perhaps for technical reasons or perhaps not to pile pressure on his state's biggest benefactor, China, which has received calls from around the world to rein in Pyongyang after previous tests.
The US, Japan and South Korea have all pledged a tough and coordinated response to any nuclear test. But years of sanctions have done little to slow North Korea's weapons program and it's hard to see what leverage really remains.
Japan's foreign minister is planning to visit China this weekend in the first such trip in about three years, Kyodo News and other local media reported, for talks that could include discussions about North Korea.
There's also little chance Russia or China, which have veto power at the UN Security Council, would support any measures against North Korea, as they did in 2017 following a series of weapons tests.
Kim's visit to the warhead facility may indicate a test could come sooner rather than later. When the North Korean leader made a similar visit to a warhead facility in August 2017, his state set off its most powerful nuclear device just a few days later.
Yang Uk, a research fellow at the Asan Institute for Policy Studies in South Korea, said the newly revealed nuclear warheads appear to be extremely compact and much lighter than the ones from the previous tests.
"So, a verification process is still necessary to confirm if they can function properly in real situations," he said. "North Korea needs to confirm this for themselves while enhancing their strategic visibility by showing it to the outside world."