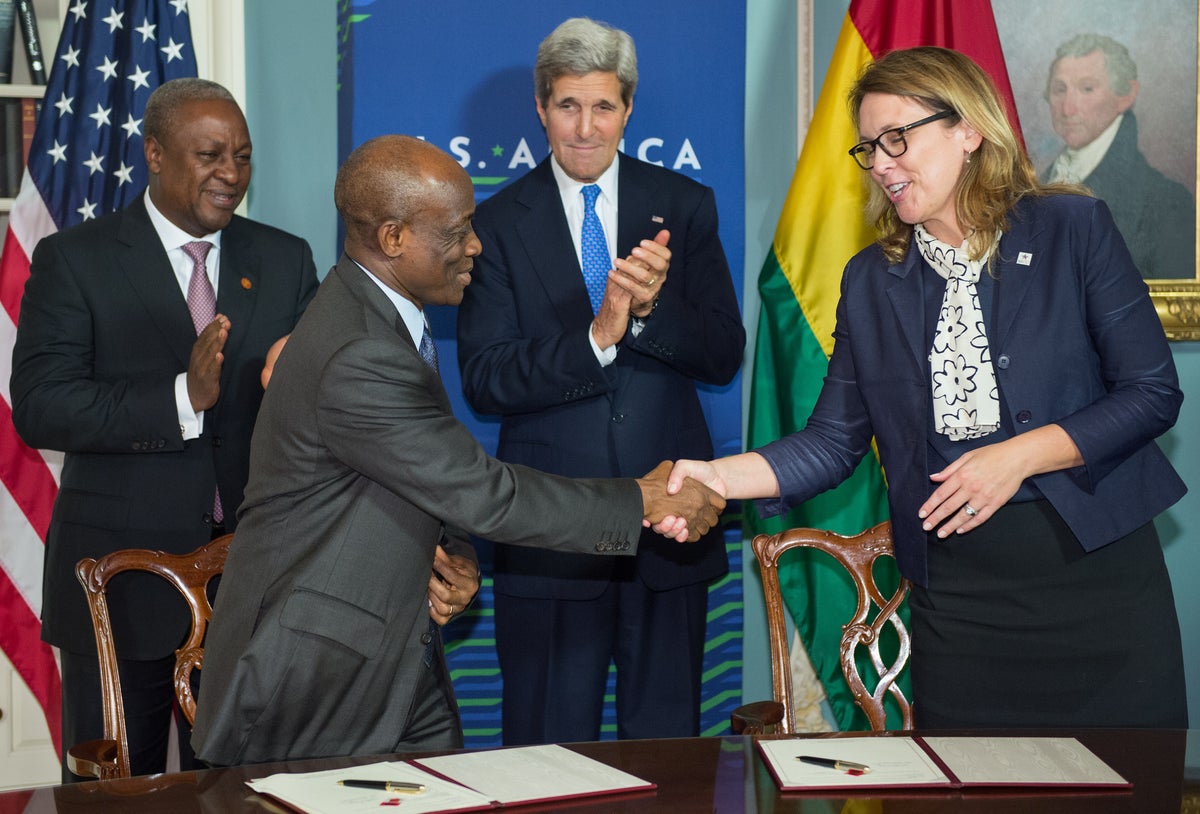 A woman who died after the private plane she was travelling on experienced severe turbulence on Friday has been identified as former White House official Dana Hyde.
Ms Hyde, 55, was flying with two crew members and three passengers on a Conexon-owned jet from from Keene, New Hampshire to Leesburg, Virginia when the plane encountered turbluence and was forced to make an emergency landing outside of Hartford, Connecticut.
She was taken to Saint Francis Medical Center in Hartford, where she was pronounced dead.
Ms Hyde trained as a lawyer and had a decorated career of public service in Washington, DC. She served for eight years in the Obama administration, filling roles in the Office of Management and Budget and State Department and serving as CEO of the Millennium Challenge Corporation.
Before that, Ms Hydge served as Special Assistant to the Deputy Attorney General during Bill Clinton's tenure as president and also served as counsel to the 9/11 Commission.
Since leaving the White House, Ms Hyde worked as a consultant and served for two years as the co-chair of the Aspen Institute's Partnership for an Inclusive Economy.
"During her time with us, Dana was a brilliant and generous colleague who worked closely with programs across the organization to build partnerships and enhance our collective work," Jon Purves, a spokesman for the Institute, said in a statement reported by NBC News. "The thoughts of our entire Aspen Institute community are with Dana's family and loved ones."
A Conexon spokesperson confirmed to the news organisation that Ms Hyde was married to Conexon partner Jonathan Chambers. Conexon is an internet service provider that provides high-speed internet service to rural communities.
The National Security Transportation Board (NTSB) is investigating the accident. An agency spokesperson told The New York Times that the NTSB is in the process of interviewing the flight's crew members and other passengers and has taken possession of the cockpit voice recorder and flight data recorders.
While mild turbulence is relatively common in air travel, severe turbulence can have serious effects. Just last week, seven passengers on a Lufthansa flight from Austin to Frankfurt were hospitalised with minor injuries after turbulence that forced the flight to make an unscheduled landing in Virginia.
According to the NTSB, turbulence was responsible for more than a third of the accidents on commercial airlines between 2009 and 2018. Data for private flights, like the one Ms Hyde was travelling on, was not readily available.