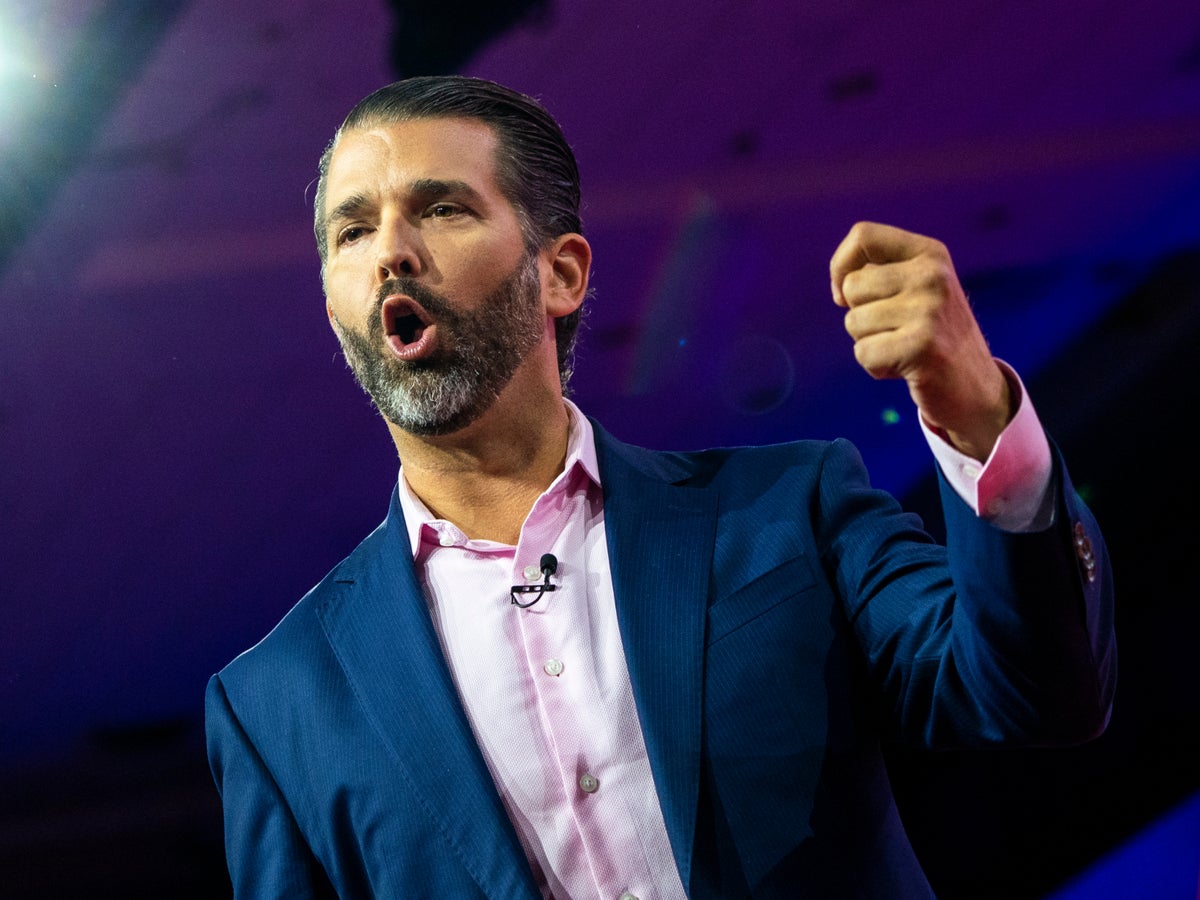 Donald Trump Jr went on a rant claiming that PNC bank closed a business account associated with a news aggregation company he started.
Mr Trump Jr argued that the bank should be investigated, alleging that the PNC Financial Services Group closed the account for the MxM News app for political reasons.
But PNC bank told The Independent on Friday that the account for the app's parent company ROCDIGITAL, LLC had been reopened.
"Account closures can occur for a variety of reasons but are never influenced by the political views or affiliations of our customers," PNC said. "We've looked closely into the circumstances surrounding the closure of the ROCDIGITAL, LLC account and determined it was mistakenly closed due to a good-faith error. We have reopened the account and we apologize for any inconvenience."
Multiple GOP members slammed the bank for closing the account associated with the app, started by Mr Trump Jr alongside Taylor Budovich, an ex-spokesperson for former President Donald Trump, with the ambition of taking on other news aggregators, such as Apple News and Google News.
The company was launched amid widespread concern among conservatives that large tech companies are stifling right-wing views on social media platforms.
DirecTV removed rightwing channel Newsmax from its lineup of options in January following a split over the contract after earlier having rejected a renewal of its deal with another right-wing channel last year – One America News, Newsweek noted.
"Woke @PNCBank just shut down the bank account for my app @mxmnews without any explanation," Mr Trump Jr tweeted on Thursday. "The Left doesn't think you should be able to exist, much less thrive, in society. It should be illegal to discriminate based on political affiliation!!!"
Mr Budowich told Fox News Digital that he initially became aware of the closure of the account when went to a branch office in Florida to pay invoices from vendors.
"The teller said he was unable to complete the transfers as the account had been closed and balance had been zeroed out," he told Fox.
"After being told to call a generic helpline, I was informed by the PNC representative that per the terms and conditions, PNC reserves the right to re-evaluate their business relationships at any time and terminate accounts without cause," he added.
"Woke corporations are using their terms and conditions like a guillotine over the head of every conservative entrepreneur," Mr Budowich said.
Mr Trump Jr told Fox that the news aggregation app was intended to "provide curated stories that are being silenced and or suppressed by big tech and the mainstream media".
"However, as this shows, it's not just the media that's become plagued by the woke agenda," he added. "It's banks, it's the entire corporate America."
"We need a patriot economy. We need a parallel economy to fight back," he suggested, adding that the account closure was "a minor setback for MxM News that we were able to quickly resolve".
"But what about every other start-up, or small business who wants to pursue a values-based company?" the former president's eldest son asked. "This should be investigated, and it should be illegal to discriminate based on political affiliation."
Fox News reports that they "obtained a PNC Bank document notifying Trump Jr. and Budowich of the account closure".
"Here's what happened: Your PNC account has been closed. Enclosed you'll find a cashier's check representing the balance of your remaining funds," it said. "Here's what you'll need to do: Please destroy all unused checks, withdrawal/deposit tickets and any debit card accessing the account."
"It is important for you to know that, going forward, any transactions presented to your account will be returned," the bank added, according to Fox.