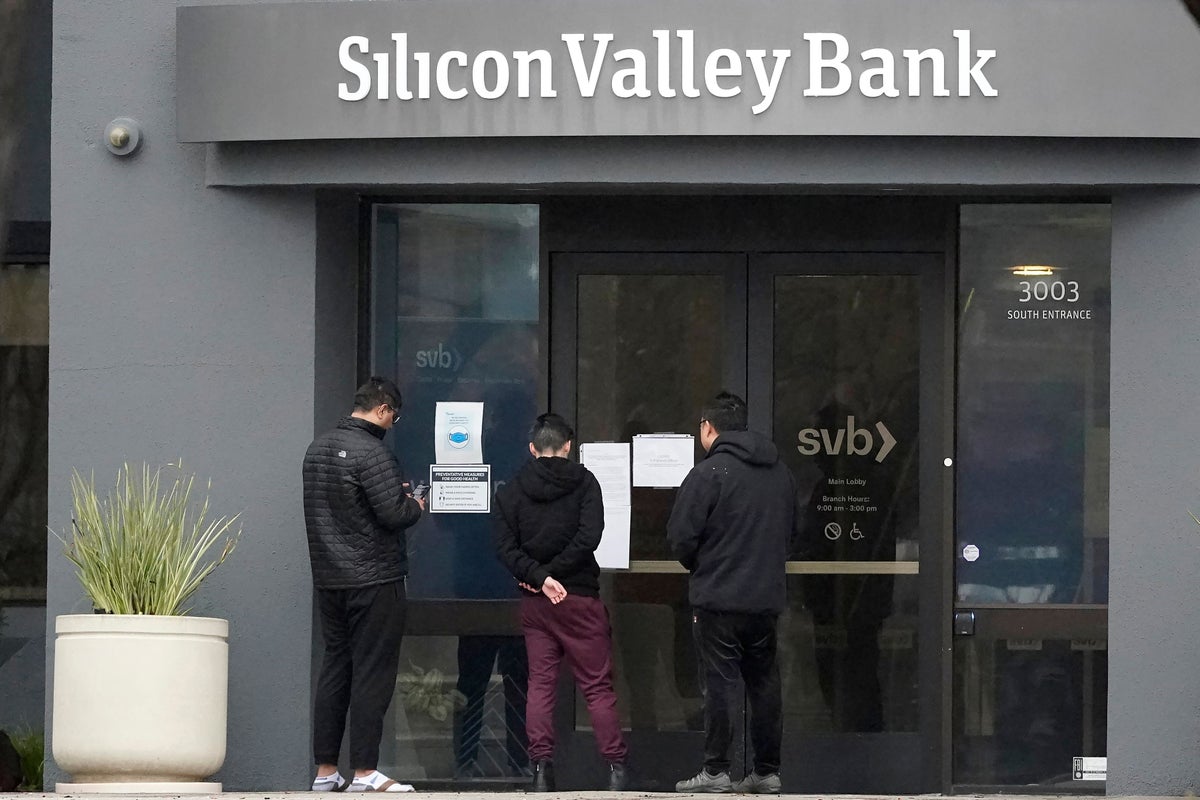 President Joe Biden is set to address the nation about the sudden collapse of Silicon Valley Bank, which marked the biggest US bank failure since the 2008 global financial crisis and the second-biggest in American history.
In a statement on Sunday evening, the president said that he "will deliver remarks on how we will maintain a resilient banking system to protect our historic economic recovery" in a speech to the American people on Monday morning.
"Over the weekend, and at my direction, the Treasury Secretary and my National Economic Council Director worked diligently with the banking regulators to address problems at Silicon Valley Bank and Signature Bank," he said.
"I am pleased that they reached a prompt solution that protects American workers and small businesses, and keeps our financial system safe. The solution also ensures that taxpayer dollars are not put at risk.
"The American people and American businesses can have confidence that their bank deposits will be there when they need them. I am firmly committed to holding those responsible for this mess fully accountable and to continuing our efforts to strengthen oversight and regulation of larger banks so that we are not in this position again."
On Friday, California regulators shut down Silicon Valley Bank (SVB) in what brought back memories of the dark days of the financial crash.
The bank's collapse came just 48 hours after it announced it had sold off a load of securities at a loss and planned to sell $2.25bn in new shares to shore up its balance sheet.
This sparked a panic among depositors who rushed to withdraw their money, creating a run on the bank and sending shares plummeting.
In pre-market trading on Friday, share price fell a staggering 66 per cent.
Trading was halted and California regulators stepped in, shuttering the bank in the middle of the trading day and appointing the Federal Deposit Insurance Corporation (FDIC) as receiver.
It marked the biggest US bank collapse since Washington Mutual failed during the height of the 2008 financial crisis.
On Sunday, a second bank – New York-based Signature Bank – was then also shut down by regulators in a move to prevent an escalating crisis. Signature Bank is one of the biggest banks to the cryptocurrency industry.
While the Biden administration has signalled it has no intentions of bailing out the banks, it has introduced emergency measures to protect the US economy and give bank clients access to their funds at no cost to US taxpayers.
Secretary of the Treasury Janet Yellen, Federal Reserve Board Chair Jerome Powell, and FDIC Chairman Martin Gruenberg released a joint statement on Sunday announcing the steps.
"Today we are taking decisive actions to protect the U.S. economy by strengthening public confidence in our banking system," they said.
"After receiving a recommendation from the boards of the FDIC and the Federal Reserve, and consulting with the President, Secretary Yellen approved actions enabling the FDIC to complete its resolution of Silicon Valley Bank, Santa Clara, California, in a manner that fully protects all depositors.
"Depositors will have access to all of their money starting Monday, March 13. No losses associated with the resolution of Silicon Valley Bank will be borne by the taxpayer."
The Federal Reserve Board will also make additional funding available to eligible depository institutions to help assure banks have the ability to meet the needs of all their depositors.
"The US banking system remains resilient and on a solid foundation, in large part due to reforms that were made after the financial crisis that ensured better safeguards for the banking industry. Those reforms combined with today's actions demonstrate our commitment to take the necessary steps to ensure that depositors' savings remain safe," the statement added.
Those with money at the banks will have full access to it from Monday and no losses will be borne by the taxpayer.
However, the regulators said that there will be no bailouts for the banks and some shareholders and unsecured creditors will lose all of their investments.
Silicon Valley Bank was the 16th-largest bank in the US, predominantly serving technology workers and venture capital-backed companies.